Course Offering: Media Law and Intellectual Property
By Aamin Withrow-Davis, second-year graduate student in the Digital Media program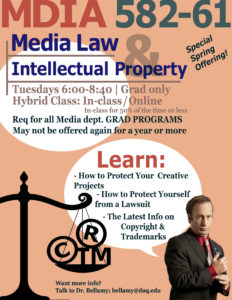 Its that time of year again, scheduling next semesters classes. We are glad to announce that we have a special spring course offering, Media Law and Intellectual Property. This course will has two offerings, one only for graduate students and another for undergrads which will be a hybrid class 50 % online and the other 50% in-class.
You will learn what is intellectual property, how to protect your creative works, how to protect yourself for lawsuits and what is currently going on in the field of Copyright and Trademarks.
This is especially important for graduate students since its a program requirement and may not be offered for a year or more.
We are looking forward to seeing you!
For more information contact Dr. Bellamy: bellamy@duq.edu.