Notre Dame Hesburgh Lecture in Collaboration with WESA and Point Park – Nov 7th
By Aamin Withrow-Davis, second-year graduate student in the Digital Media program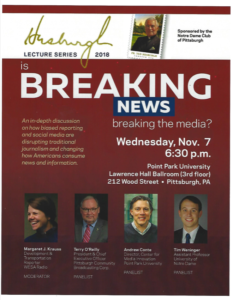 On November 7th at Point Park University,  the Hesburgh Lecture Series will be hosting a panel discussion on how biased reporting and social media are disrupting traditional news reporting and changing how American consume news information.
The Hesburgh Lecture Series was started by Fr. Hesburgh in order to continue adult education and is sponsored by the Notre Dame alumni clubs around the country.
To learn more about the panelist, about the location, date and time refer to the attached flyer.